A contact center is a dynamic environment in which effective call handling is critical to ensuring a high-level customer experience. In this context, the use of a predictive dialer proves to be a powerful solution for optimizing operational efficiency and improving overall results. In this article, we will explore how a predictive dialer can transform the efficiency of a customer service department, providing significant benefits in call handling and increasing operator productivity.
What is a predictive dialer?
Predictive dialers are predictive software that automates the outbound dialing process and optimizes it. These tools are becoming indispensable in enhancing the operations and productivity of contact centers.
How does a predictive dialer work?
Leveraging advanced statistical algorithms and machine learning, the predictive dialer analyzes the available data, taking into account parameters such as the probability of called users responding, the number of available operators, the average call handling time, and the number of calls on hold. Based on this information, the predictive dialer determines the best time to make new calls. This minimizes downtime between calls, optimizing the work of operators.
Benefits of a predictive dialer
Here are the main benefits of adopting a predictive dialer for an outbound contact center:
Elimination of down time: dead time between calls is minimized by increasing the number that can be handled by each agent. The predictive dialer automatically makes the next call as soon as an operator is available, minimizing downtime and maximizing actual work time. This means that operators can handle more calls throughout the day, increasing the overall productivity of the contact center.
Unanswered call filtering: a predictive dialer can identify unanswered calls, such as those that go to voicemail or are not answered. These calls are automatically removed from the list, allowing operators to focus only on calls that are actually answered. This means that operators can devote more time and energy to relevant calls, improving efficiency and the overall quality of service provided.
Intelligent call distribution: in addition to call automation, a predictive dialer also offers advanced call routing capabilities. The software can intelligently distribute calls to the most suitable operators based on predefined criteria, such as specific skills or workload. This ensures that each call is routed to the most appropriate operator to handle it, improving the quality of customer interactions and reducing wait times.
Reduced costs: As a direct consequence of call filtering and intelligent distribution, costs go down because fewer operators are needed to reach the same number of contacts and results.
Improved experience: Users are better tracked, first because they are correctly directed to the most qualified operator, and second because agents focus only on customer dialogue.
Performance monitoring and analysis: a predictive dialer provides performance monitoring and analysis tools that enable supervisors to evaluate contact center efficiency and effectiveness. Through detailed reports, information can be obtained on calls handled, wait times, average call duration, and other key indicators. This data allows areas for improvement to be identified and possible optimizations to be made to maximize the overall efficiency of the contact center.
Regulatory compliance: Through automations, compliance with laws on dropouts and maximum ringing times is assured.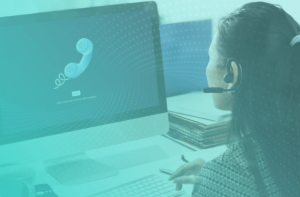 XCALLY's predictive solution
Investing in a predictive dialer means investing in the efficiency and innovation of a contact center. Leveraging this solution will help maximize performance, reduce wait times, and provide superior service to customers.
Choosing the right predictive dialer solution for the specific needs of a business can make all the difference in achieving business goals.
XCALLY integrates a powerful predictive dialer based on artificial intelligence and machine learning. This allows outbound campaigns to be optimized for any industry, from telemarketing to debt collection.
How does it work?
Motion Bull is an automated outbound dialer that generates calls from a list and connects contacts to agents or forwards calls to an IVR based on the campaign. Unanswered numbers are then automatically called back at times when they are most likely to be answered. This improves call handling efficiency by preventing agents from manually dialing numbers.
The Dialer can be used for different types of applications, including:
Callback applications
Reminder for reservations
Automated Surveys
Tele-sales and telemarketing
Tele-alarms
In conclusion, the use of a predictive dialer such as XCALLY's Motion Bull can bring significant benefits in managing calls and optimizing the efficiency of a contact center.
Implementing this solution is a choice that obviously allows a cost reduction but at the same time results in a better overall customer experience.