In the digital age, providing high-quality customer service is more important than ever. A key component of this service is an IVR (interactive voice response) system effective and well-managed. That's where XCALLY's IVR Agent Management comes in.
What is XCALLY?
XCALLY is a comprehensive contact center solution that offers a range of features to effectively manage inbound and outbound calls. Among these features, Agent Management IVR stands out for its ability to improve both call center efficiency and customer experience.
XCALLY's IVR Agent Management
When it comes to providing quality customer service, effective management of agents is critical. XCALLY offers an IVR Agent Management solution to streamline agent management and improve the customer experience.
How It Works
XCALLY's IVR Agent Management is designed to automatically handle incoming calls, guiding customers through a menu of voice options and directing them to the most appropriate operator. To do this, simply create custom rules, based on agents' skills, call priorities, and other key factors. This not only reduces waiting time for users, but also ensures that operators can focus on calls that are most relevant to their expertise.
The Benefits for Operator Management
XCALLY's Agent Management IVR offers a number of benefits for managing operators in a contact center:
Intelligent call distribution: IVR routes calls to the most qualified operator, optimizing the use of human resources and improving call center efficiency.
Flexible work schedule management: With IVR Agent Management, you can easily schedule agents' work schedules according to your business needs.
Performance monitoring and reporting: XCALLY provides advanced monitoring and reporting tools for IVR Agent Management. It becomes easy to monitor agent activity in real time, view key statistics on calls, and generate detailed reports on individual and team performance. This data enables the evaluation of operational efficiency, identification of areas for improvement, and informed decision making to optimize agent resources.
Operator training: The IVR can be used to train new operators, enabling them to listen and learn from calls handled by experienced operators.
Integration with other XCALLY solutions: The IVR Agent Management integrates seamlessly with other powerful solutions offered by XCALLY. You can combine IVR Agent Management with call management tools, real-time chat, XPLANY, XCALLY's workforce management solution.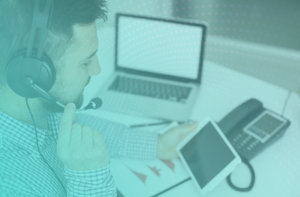 The Importance of the IVR for Customer Interaction.
An effective IVR system can have a significant impact on the customer experience. Here's how XCALLY's Agent Management IVR can improve customer interaction:
Reduced wait times: By guiding customers through a menu of voice options and directing them to the most appropriate operator, the IVR can reduce wait times.
Personalized service: The IVR can use customer information to provide more personalized service, improving customer satisfaction.
24/7 availability: Even when operators are unavailable, the IVR can handle calls, provide information or collect customer data for later follow-up.
Conclusions
XCALLY's IVR Agent Management is the ideal solution for optimizing agent management and improving the customer experience. Take advantage of the advanced features offered by XCALLY and transform your business operations. Learn more about XCALLY's IVR Agent Management today!