Microsoft Teams Voice Connector is a new feature of XCALLY, the omnichannel software that allows companies to offer an excellent customer care service to their customers. Thanks to this integration, all the operators using XCALLY will be able to forward incoming calls to users using Microsoft Teams. This novelty further facilitates the work of agents and makes communication within a company more fluid, making the activity more efficient and optimizing the experience.  
XCALLY agents can use the "external agent" function to adopt Microsoft Teams as the only telephone client, thus taking advantage of a fully integrated seamless experience, extending XCALLY's multi-skill based routing, realtime management and advanced IVR capabilities to the Microsoft world.
Microsoft Teams Voice Connector: What are the benefits?
By using the new feature, you will be able to benefit from a series of advantages that will streamline and speed up your workflow. In fact, those who use XCALLY will have the possibility to see the status of other users who use Teams, directly on the software. With a simple step they will know if a colleague, an agent or a collaborator will be available or if he is busy/absent.  
Thanks to this integration it will be possible to start a phone call on Teams directly from XCALLY, in this way it will be possible to get in touch with whoever you want without having to use two systems at the same time. Microsoft Teams Connector also ensures two other particularly interesting advantages that make XCALLY even more functional: 
Calls could be forwarded to a contact outside the contact center, provided the latter is registered as a "telephone" on XCALLY.

 

Through Teams the calls can be forwarded to a mobile phone, making full use of mobility.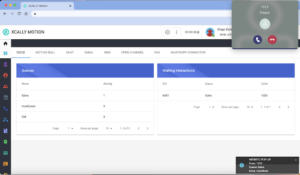 How the
Customer experience improves thanks to Microsoft Teams Voice Connector
XCALLY is the omnichannel platform that allows companies to offer a top-level customer care service. The new integration makes it possible to create better collaboration between agents and within the company itself, becoming to all intents and purposes a collaboration tool that supports operators in solving problems and allows them to manage customers in a more efficient way. 
Regardless of the department in which agents, operators, collaborators and colleagues work, communication becomes easier and more fluid thanks to Microsoft Teams Connector. Customer problems and requests are solved more efficiently and the tool thus becomes highly functional for companies: 
Agents and the departments of the same company can enjoy better cooperation.

 

For the problems management, you come into direct contact with the right contact person.

 

Critical issues are resolved in real time.

 
The status of Microsoft Teams (free, busy, etc.) is displayed directly on XCALLY.

 

Calls are secure and are carried out without interruptions.

 
XCALLY: the omnichannel platform for corporate customer experience
XCALLY, thanks to the multi-channel approach and technological innovations created by the INGO group, is able to build specific projects for each company, following the process from the initial analysis phase up to the creation of integrated, scalable and modular omnichannel strategies. The Made in Italy platform at the service of the customer experience.