In the competitive world of telecommunications, the ability to handle customer inquiries promptly and accurately is critical to success and retention. To meet this challenge, Intred has chosen to make a difference through its partnership with XCALLY, a company specializing in cutting-edge contact center solutions.
Intred: Innovators in the Telecommunications Sector
Intred is a telecommunications operator with over 5 years of experience in using XCALLY. Founded in 1996 in Brescia, Intred has developed a fiber optic network that covers the territory of Lombardy extensively. Their wide range of services spans from broadband and ultrabroadband connectivity to fixed-line telephony, cloud services and more, serving both business and retail customers.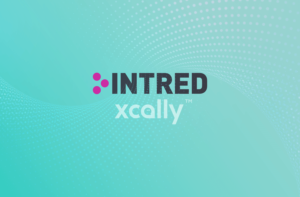 The Challenge: Optimizing VIP Customer Care.
Intred contacted XCALLY initially looking for a solution that could manage the VIP customer care part of their customer care in an agile and efficient manner. The goal was to simplify the handling of customer inquiries through the voice channel by leveraging IVRs and dialers to quickly route calls to the appropriate operators. The company was particularly interested in streamlining the call flow for technical support, especially for customers with strict SLAs.
The XCALLY Solution: Customization and Efficiency
XCALLY has successfully integrated Intred's Avaya system, deploying a complete suite for 10 agents on 30 voice management channels. In response to Intred's specific needs, XCALLY proposed an IVR solution based on CALLY Square, which allowed complex workflows to be configured to precisely route callers to dedicated technical support.
XCALLY has focused on two key guiding principles: ease of use and integration with existing systems. This has enabled Intred to successfully migrate its entire customer care management to XCALLY Motion over time.
Extraordinary Results: Growth and Personalization
The initial implementation with 10 agents and a dedicated IVR service for VIP customers in 2018/2019 has grown rapidly. Today, Intred has 100 agents operating on XCALLY Motion, which supports all of the company's customer services. In addition, due to the versatility of the software, Intred is now integrating the suite with its proprietary ticketing system, allowing for greater customization of the voice service through the use of the Open API.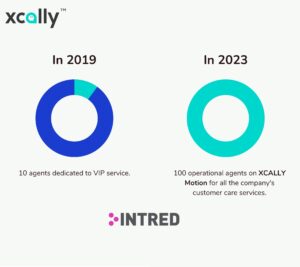 The customized IVR solution has enabled Intred to optimize its customer care and offer customers a higher level of service. We are excited to see what the future holds for this successful collaboration.